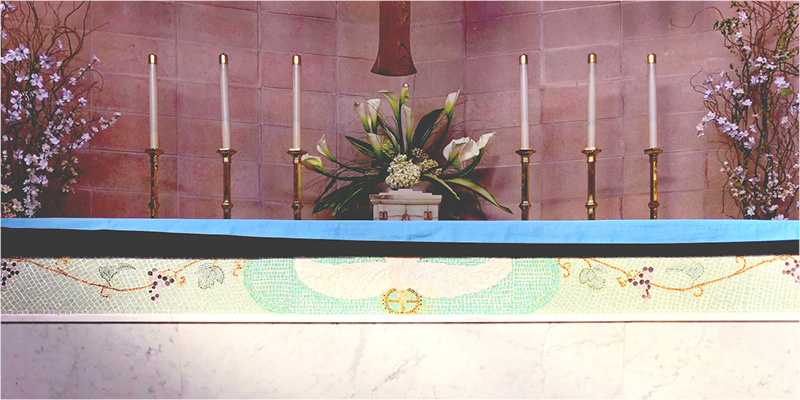 The Gospels of Matthew, Mark, and Luke give us a glimpse into what it was like during the Last Supper, where the Holy Eucharist was first celebrated. It is one of ​only ​two moments in Scripture where Jesus models a Sacrament​ for our sake – the other being his baptism. What a gift! There is something ​remarkably​special about sharing in ​a ​rite ​​experienced by ​​Jesus​ – our intercessor and deliverer​​​​​. What we read in the Bible is what we do in church​! ​For many of us, this is the closest we'll ever get to following in Christ's footsteps.
The Catechism of the Episcopal Church defines Holy Eucharist as​,​"​T​he sacrament commanded by Christ for the continual remembrance of his life, death, and resurrection, until his coming again" (Book of Common Prayer 859). Like all sacraments​, ​it is something physical that teaches us about something spiritual. Or​ ​put another way, a Sacrament is an "outward and visible sign of an inward and spiritual grace" (Book of Common Prayer​ ​857). For children and adults alike, spiritual matters can be difficult to grasp. Sacraments help us comprehend the mysteries of the faith a little better through tangible experiences.
​T​he Sacraments ​(​Holy Baptism, Holy Eucharist, ​C​onfirmation, ​O​rdination, ​H​oly ​Matrimony, ​Reconciliation, and ​U​nction​) ​give us concrete ways to connect with God. We use all of our senses to understand our faith: we lay hands on one another, we smell anointing oil, we feel the waters of Baptism. Through Holy Eucharist, we can "taste and see that the Lord is good" (Psalm 34:8).
Communion at St. Michael's is very special. Silent prayers fill the ​space​, and there is a profound sense of God's presence as we partake of Jesus' body and blood ​communally​. It is a complete sensory experience​.​ ​W​e see the Host and the Chalice raised high​,​ we feel the Host being placed in our hands​, ​we smell the scent of wine​,​we hear the words "the Body of Christ, the bread of heaven" spoken directly to us; we taste the elements as they are placed on our tongue.
Participating in the Holy Eucharist always brings joy to my heart​!​ I spend time in prayer and reflection​, and I​ thank God for each person ​present​. For​ ​as we partake of the Body of Christ together, we become the Body of Christ on an even deeper level.
May we rejoice in the mysteries of God as we grow in communion with Our Lord and one another!
---
This article was written by Becky Gleason, Children's Minister.