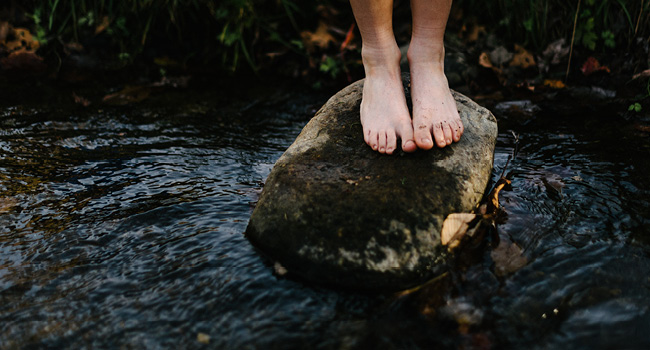 Fear is an all too familiar experience these days. Simply turning on the TV for 5 minutes is all the time it takes for my mind to be filled with fear. However, the truth is, that if I look really hard I can find almost anything to be afraid of.
Fear is the opposite of faith. It is not a product of God, but from another source. When I let fear take over, I am letting go of faith. Like so many other things, fear is a temptation to doubt God and be self-focused.
When I'm faced with a life-threatening situation, my mind and body have an instinctual auto-response of healthy fear that is uncontrollably provoked. But there are hordes of other fears that present themselves where participation becomes a choice, and we become complicit.
Fear takes many forms: survival, insecurity, unworthiness, abandonment, rejection, violence, anger, etc. The list goes on and it is long! In the end, God is bigger and greater than every single branch, root and seed of fear.
How easily fear can reign! It is much harder to say, "No matter what, God is still in control and my faith is in Him." Though this is the harder decision that requires consistency and discipline, it is exactly what He asks us to do — evict fear and embrace Him.
Consider Peter walking on water to meet Jesus:
So Peter got out of the boat and walked on the water and came to Jesus;but when he saw the wind, he was afraid, and beginning to sink he cried out, "Lord, save me." Jesus immediately reached out his hand and caught him, saying to him, "O man of little faith, why did you doubt?"
(Matthew 14:29b-30)
Jesus was the most perfect example of choosing faith over fear. Although fully human, He did not succumb to fear, trusting the Father even unto death. Christ was resurrected and defeated death giving life to all creation and humankind. God's plan was perfect and complete.
When I rest in this knowledge, I am capable of trusting God because His Spirit lives in me. The gifting of the Holy Spirit will rise up in me and give me the strength to believe, especially in the midst of fear. I can trust that God's plan is perfect no matter what it looks or feels like. If I hold steady in trust and keep eyes on him I will not sink!
Fear not, for I am with you, be not dismayed, for I am your God; I will strengthen you, I will help you, I will uphold you with my victorious right hand.
(Isaiah 41:10)
---
Written by Megan Stanton, Communications Coordinator.