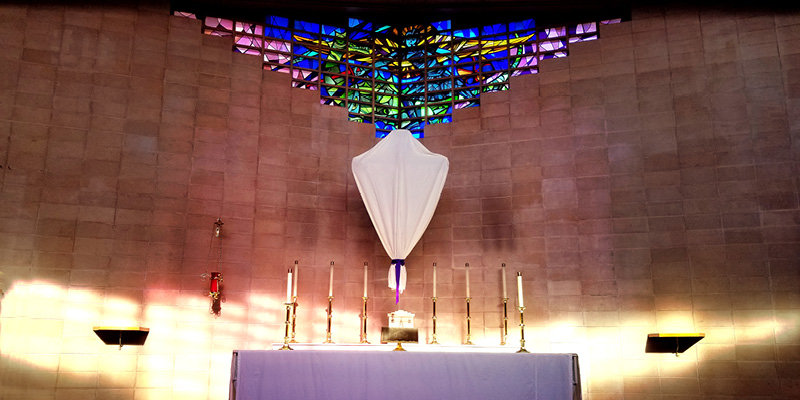 Lent has always been a very important time of the church calendar at St. Michael's. Growing up as a child of the parish in 1950s and 1960s, observation of Lent was something every church member took seriously.
Everyone made very careful decisions about what each would give up or forego to honor and remember the sacrifices that Jesus made before his crucifixion. Children were instructed as to the importance of honoring Jesus in this way.
Our sacrifices were not frivolous. Although usually having something to do with food, it might also be giving up playtime to help out at church. At the original St. Michael's campus which held a small graveyard (the only one ever in Carlsbad), this might involve weeding around the headstones of the faithful departed. It could mean cleaning the chapel thoroughly in preparation for Easter.
In my home, we'd not eat meat most Fridays throughout the year, but during Lent, never meat on Fridays. We usually did not have desserts during that time, except on Sundays.
We usually attended an extra service during the week during Lent, and during Holy Week services culminating with Good Friday. In those days, schools and businesses closed at noon, with businesses reopening after 3:00 pm. This service lasted 3 hours with times for meditating at intervals during the service.
Perhaps as well as committing to a personal sacrifice during the Lenten season, we might consider what we can contribute of our time and talents to help out around the church. Maybe you could polish the pews in the chapel, or help beautify an area of the grounds? Perhaps you could clean one of the Sunday School rooms, or dust in the Library?
We can commemorate and honor the Passion of Our Lord by doing something extra to help with St. Michael's much-anticipated Easter celebration. Let us join together as we remember Christ's ultimate sacrifice for us, to save us all!
If you're interested in helping out around the church, contact ginny@stmbts.org to get started!