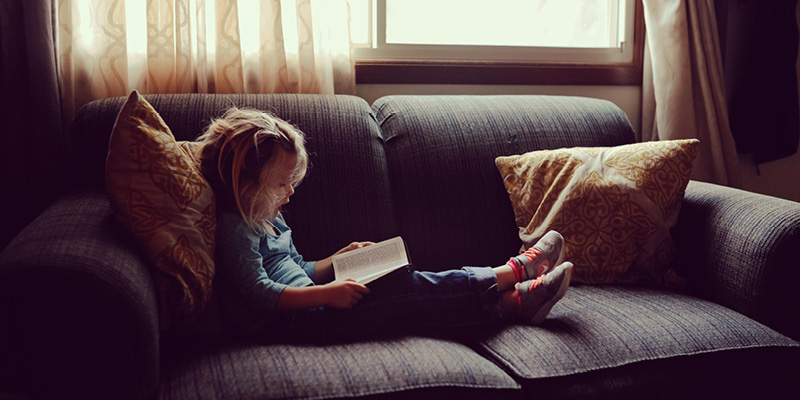 Lent is coming! Yay?!?
Okay, so most of us don't approach Lent with that kind of enthusiasm. A 40-day period of self-denial and prayer might not be something we look forward to each year, and it may be one of the most difficult church traditions to talk about with children. After all, it is about deprivation and discipline, and many associate it with feelings of guilt. Not much fun for kids.
Lent, when observed properly, can be a time for self-reflection and spiritual growth. We take this time to prepare our hearts and minds for Christ's resurrection, which opened the way for our salvation!
So how do we preserve this deeply spiritual season for future generations? How do we talk about it with children? I'd like to offer a few suggestions to help us experience Lent as a time of growth both for ourselves and the children we care for.
1. Start with Yourself
If we don't understand why we do what we do, it will be very difficult to teach our children in a meaningful, sincere way. We must take the time to learn about and understand why we are participating in this church tradition. Read about Lent, attend church, go to the Adult Forum, maybe go to Confession. There are countless ways to educate ourselves and prepare our hearts.
Once we understand the "why," it will be easier for us to make Lent a meaningful part of our spiritual lives. From there, we can impact those around us; we can lead by example. Children watch their parents and other important adults in their lives; they depend on us for direction.
2. Share the Story
We can read the story of Christ's journey to the cross with children.* Or, for a more experiential telling, attend Stations of the Cross at St. Michael's on Friday evenings during Lent. But don't stop there: let children know that although people did mean things to Jesus, he still loved them, just as he loves each of us. We are all unique and special to God. When we make bad choices, Jesus forgives us every time. All we have to do is say we're sorry!
Finally, we must remind children – and ourselves – that the crucifixion isn't the end! There are parts of this story that are sad and scary, but the best part is yet to come! Lent is full of anticipation as we await Jesus' resurrection on Easter Sunday.
3. Pray, Fast, and Give Together
The church has traditionally taken part in three disciplines during Lent: prayer, fasting, and almsgiving. Children can be a part of each of these! Children are curious by nature; they want to know about the world around them and how things work. Beyond offering opportunities to participate in these disciplines, we must help them understand why we do them. That understanding brings deeper meaning to what we do.
Prayer is a way for us to draw close to God. He doesn't need our prayers; rather, our prayers bring us into relationship with God, opening our hearts to how He would work in our lives. Perhaps part of a Lenten discipline could be praying as a family. If you already pray before dinner, maybe start praying before bed, too, or before leaving for school in the morning. Allow children to choose who and what they would like to pray for –and be surprised by their compassion and insight.
Fasting is often misunderstood. And it is easy to think that children are too young to fast. In the traditional sense of the word (fasting from food), yes, they may be. But there are many other developmentally appropriate ways to fast.
First, it's important to understand and communicate why we fast. Children may relate to the analogy of training for a race or taking a practice test. The things we give up will help us train more than just our bodies or our minds. Fasting trains our wills, so that when we face real temptation (and children do face real temptation), we are able to do the right thing.
Fasting from meat on Fridays has long been a Lenten tradition, this could be simple to employ in your menu planning. Other options could include giving up computer games, Netflix, or candy. For teens, it could mean logging off of Instagram or Snapchat (or the phone altogether). It could be for a certain day of the week, or after a certain time of day. The options are endless.
One concern with fasting is that it could feel like punishment. We must be sure to talk to children about why we give things up and decide together what we think would help us grow closer to God.
Almsgiving is the idea that we are called to give to those in need. Often times, people use the money they have saved having given something up (meat, Starbucks, etc.) to make a donation to a charity or give a little more at church. This is a fantastic opportunity to help children see how our spiritual life can impact the world. We can talk with children about how much money they think they could save during Lent and where they would like to donate it.**
No matter what disciplines an individual or family choose to observe, we as a church family can encourage one another to do everything wholeheartedly, remembering the One who gives us the strength and courage to live out our faith each day!
Lent doesn't have to be a dark or scary experience. Self-reflection and spiritual growth, while they may not be "fun" or "make us happy", are genuinely gratifying. Children and adults alike feel satisfaction when they complete something challenging, and in the process, we often become empowered to do even more. As we train our wills to withstand temptation and learn more about the love that Jesus showed us through his death on the cross, we grow in that same love. We experience peace and joy when freed from the bondage of sin, and in knowing that we are loved unconditionally.
This Lenten season, may each of us – whether we are parents, grandparents, aunts, uncles, teachers, or anyone within a church family – raise up our children to know and love Our Lord, Jesus Christ!
* Matthew 26-27, Mark 14-15, Luke 22-23, John 18-19
** St. Michael's hosts an annual Lenten fundraiser for Vida Joven. Learn more at the "Mite Can Kick-Off" on Sunday, February 18th at 9:15 am in the Parish Hall!
---
This article was written by Children's Minister, Becky Gleason.