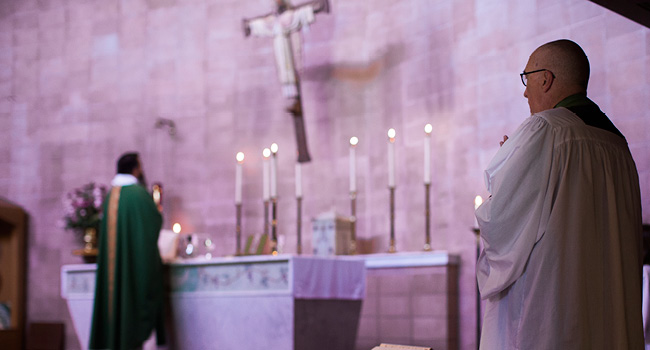 Worship is personal. One person's worship of God can aide or inspire another's, but it cannot take it's place. In the end, our calling to worship the Lord God is ours alone to fulfill. It is God's providence that the ancient forms of Christian worship which we have inherited are participatory in nature. They invite the participation of the entire assembly.
When we gather in worship, it is not solely to be fed. The Divine Liturgy is not a performance for the people. It is an act of worship by the people directed to God. We are not there to passively receive, but to actively offer our praise and thanksgiving; to laud and magnify the glorious Name of Almighty God. Everyone has a role to play! We participate by praying, singing, bowing, genuflecting, making the sign of the cross, and lifting up our hearts to the Lord.
The priest does not worship for the people, but leads the people in worship. And he is not the only one! There are many diverse ways for the people of God to assist in leading worship: reading Holy Scripture, carrying the cross or torches, ringing the bells, assisting with Holy Communion. All these roles are fulfilled by our intergenerational Worship Team. Serving at the altar of God is a privilege! It is a wonderful opportunity for experiential worship.
New worship team members are always welcome! All necessary training is provided. To learn more contact Tony Vanaria at worship@stmbts.org.
---
Written by Fr. Doran Stambaugh, Rector.