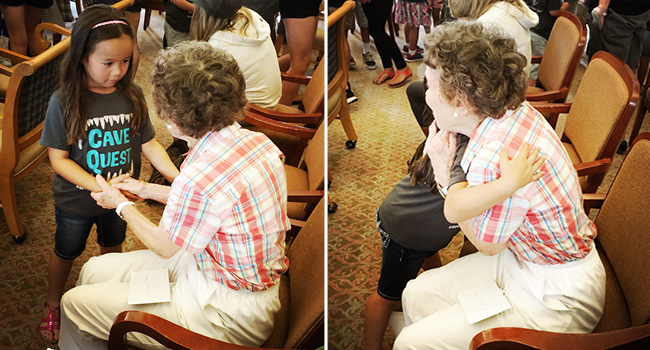 Why it is Awesome!
Being a grandparent is awesome because it is something not every person – or even every parent – gets to become. To be present when this little creature comes into the world as a result of your love for another person is awe-inspiring. Having this tiny human being hold your finger for dear life as they begin to venture into a new world is one of the deepest emotions I have ever felt. Yes, being a grandparent is awesome, and here are some additional reasons why:
When your grandchild sits up all night listening to your stories and life experiences without one bored look.
When your grandchild is watching you, and you're unaware.
When that special look comes over their faces when you walk into their sports events.
When you give your grandchild a special item from your past, and they say they will treasure it for life.
When they insist on spending special time with you alone.
When your grandchild calls just to say hello without asking for something.
When they share special food with you that only the two of you know about.
These are just a few examples that make being a grandparent awesome.
Why it is Important!
You have the opportunity to respect your children as parents, to encourage them to do their own parenting, and to be understanding and supportive even when you disagree with their parenting style. You can answer questions or be a sounding board. You can lend a hand or a warm hug. All of us have experienced overwhelming and anxiety-producing moments from which we can share.
As parents and grandparents, we do our best to set a good example by modeling strong values. We set goals earlier in life, and it's important we continue setting goals and sharing these with our grandchildren. This helps them understand that as we age we continue growing in mind, spirit, body, and soul.
Being a grandparent builds character since you have little eyes watching and little ears listening to the person to whom their mommy and daddy also watched and listened. Listening is important. As my youngest grandchildren once asked his mother, "When do I get to be in charge?"
God Works Through the Relationship Between Grandchild and Grandparent!
Each of us has the good fortune of developing relationships with parents, siblings, and friends that are filled with different aspects of life and from which we learn that faith and unconditional love are relational. This is one of God's promises, one of God's gifts to us.
As grandparents we have the opportunity and ability to pay this promise forward by showing our grandchildren our faith in and unconditional love for them. We are able to show that we have faith in them even when they may be filled with self-doubt. We can show them that God's sanctuary is a safe place, a place where there are no secrets of the heart, body, and soul. We can keep God's promise alive by demonstrating our relationship with God. As a result, hopefully they will develop faith in us, nurture our relationship together, and understand that even though we are aging, we are resilient.
My heartfelt message to my grandchildren is, 'God is always with you as your grandparent is always with you. And as God forgives you, I as your grandparent will forgive you, too.'
Grandchildren are special, and grandparents are special. They are both to be cherished!
---
Written by Robert V. Smith, Jr., St. Michael's Vestry Member.